Working with garbage pickers and making handbags from garbage, today turnover of 100 crores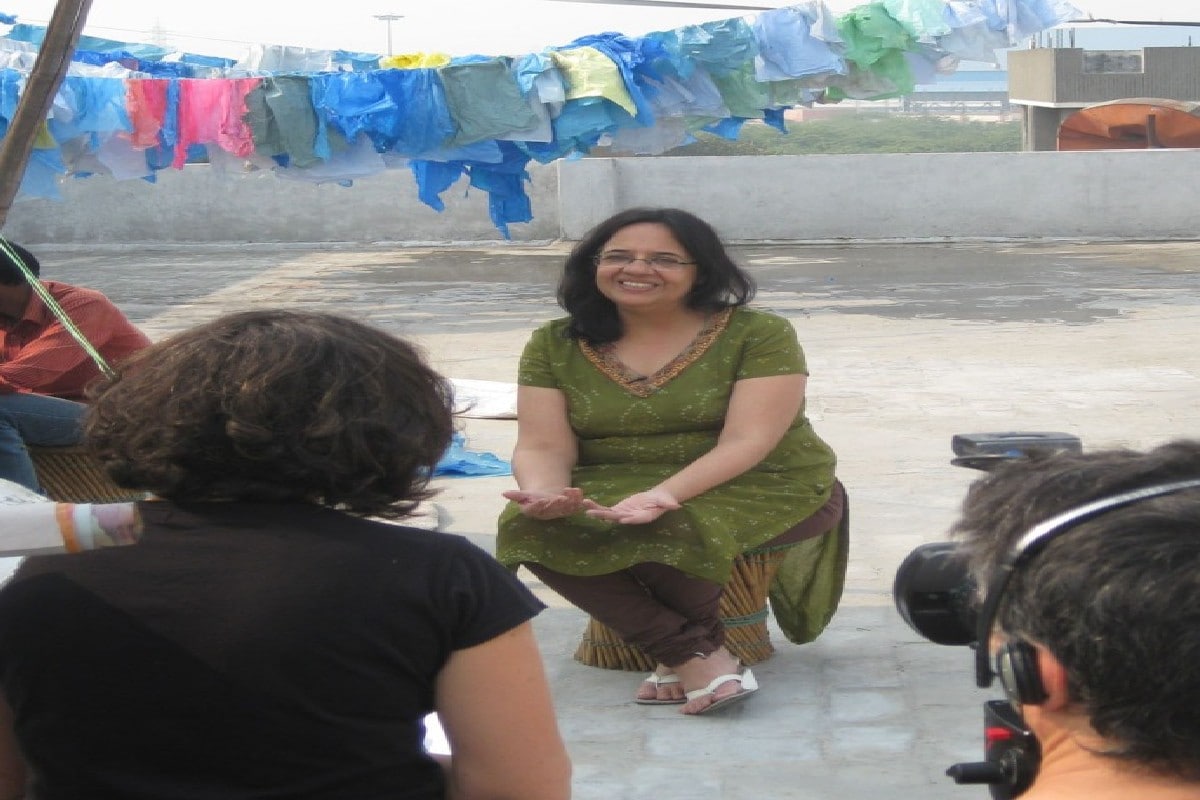 In 2003, the textile ministry gave a small booth to Anita at a fair, in which the first order of Rs 30 lakh was received. (Photo Credit: Canifolis)
Anita Ahuja collects plastic waste from garbage collectors and makes world-class handbags from it.
New Delhi.
It is not only the need of capital to do business, but it is also necessary to have a good idea. Due to this idea, a woman entrepreneur made a turnover of Rs 100 crore. Interestingly, it provided employment to thousands of garbage pickers and the Central Government's ambitious schemes 'Swachh Bharat Mission' and 'Make in India' also got a boost. Delhi's Anita Ahuja and her husband Shalabh are carrying out this unique campaign. According to the published news of Kenfolios, they make beautiful products of export quality by reusing plastic waste. Born in Bhopal and raised in Delhi, the daughter of this freedom fighter, Anita Ahuja, spent her whole life in the service of the society. Let us know how he built the business of making beautiful goods from the garbage …
Also read: Success Story: TPA left business to take care of parents, now has a portfolio of 3000 crores
Started working for garbage pickers to innovate in life
Seeing the plight of the garbage pickers, she decided that she would do something to improve their lives. So, he started a social enterprise under which he decided to collect plastic waste from garbage collectors and make world-class handbags from it. He had no plan to enter the business nor to do social service. With the aim of doing something new in life, he started working for garbage pickers.
Also read: If you are buying a dream car, then keep these five things in mind; prices will benefit
NGO 'Conserv India' Starts Collecting Garbage
One day, Anita decided to take some small projects in her area with some friends and family like her. He started an NGO 'Conserv India' and started collecting garbage from all the areas under this project. The kitchen waste was collected from the collected waste and kept in a nearby park to make it compostable. In the beginning, he realized that nothing alone would be achieved, so Anita sought with the other colony as well. This was not his beginning to make money.
Also read:
This bank made changes in FD rates, you can also avail higher interest rate, know everything
Started work with Resident Welfare Association with 3000 people
NGO Conserv India started Resident Welfare Association with around 3000 people. This association became a full-time commitment organization in 2002, which had its own rights. For four years, Anita worked with garbage pickers and realized that their standard of living is below the poverty level. She decided that she would work to improve the standard of living of the waste pickers. He obtained information on recycling technology from the Internet and tried to do different things.
Also read:
Delay for final settlement of LTC, now bills can be submitted by this date
First of all they did weaving and carpets
At first he did weaving and made carpets. But these products seemed very simple to look at, hard work was too much and was not even financially viable and it was becoming difficult to sell them. Then they decided to develop a plastic bag and this work went well. She thought that first she would do the artwork in plastic bags and then put her exhibition and then go and try to increase the money. Her husband felt that this plan of Anita would not work. Shalabh prepared elaborately fabricated plastic sheets by machine. Make the artwork in it by automatic machine and then put them in the exhibition.
30 lakh order found in a small booth
In 2003, Kanjarv India took part in the trade fair of Pragati Maidan. The Textile Ministry gave him a small booth and he received an order of 30 lakhs in it. Anita and Shalabh decided that they would take ownership of the company as the buyers were not willing to take orders directly from the NGO. Garbage pickers had to go door-to-door for plastic waste, but it was less in proportion and then required special colored plastic to make the product. For this, he contacted the junk people and started to buy plastic waste directly from the industry as well. Gradually, Kanjarv India became a brand. By the year 2020, the turnover reached 100 crores.